Doors and Windows Building Regulations
Building Regulations and Planning
Since April 2002, all replacement glazing has come within the scope of the Building Regulations. This means anyone who installs replacement upvc windows or external doors has to comply with new thermal performance standards. (Just replacing the glass is exempt).
When the time comes to sell your property, your purchaser's surveyors will ask for evidence that any replacement glazing installed after April 2002 complies with the new Building Regulations. There are two ways to prove compliance:
A certificate showing that the work has been done by an installer who is registered under the FENSA Scheme
A certificate from the local authority saying that the installation has approval under the Building Regulations.
The FENSA Scheme
The FENSA scheme allows window and door installation companies that meet certain criteria to self-certify that their work complies with the Building Regulations. It was set up by the Glass and Glazing Federation, in association with all key stakeholders, and meets with central Government approval. A sample of the work of every installer is inspected by FENSA appointed inspectors to ensure standards are maintained and installers who fail to perform can be suspended or even excluded from the scheme. FENSA also inform local authorities of all completed FENSA installations and issue certificates to householders confirming compliance.
Any installation done by a firm which is not registered by FENSA, including work done as a DIY project by a homeowner, needs full local authority approval under the Building Regulations. You should note that you, as the homeowner, are ultimately responsible for ensuring the work complies with the Building Regulations.
FENSA Guide for Compliance - Download
Means of Fire Escape - Part B
Fire escape windows are required in certain rooms in a home.
On the ground floor, fire escape windows are required in any habitable room that does not open directly into a hallway that leads to an exit door. This includes bedrooms, living rooms and studies.
On upper floors up to 4.5 meters from ground level, fire escape windows are required in all habitable rooms that do not have direct access to a protected stairway. This includes bedrooms, living rooms and studies.
The window clear opening must be at least 0.33 square meters and at least 450 millimeters high or wide.
If one of the dimensions is 450 millimeters, the other dimension must be at least 750 millimeters to achieve 0.33 square meters.
The bottom of the window opening must be no more than 1100 millimeters from the floor.
Our Fire Escape and Easy Clean hinges comply with these regulations providing the clear opening is met.
These hinges allow the window to open without obstruction, so that it meets the minimum size requirements.
We recommend at least a 600mm side opening width to achieve the clear 450mm opening width requirement.
Approved Document B - Download
Ventilation - Part F
A trickle vent is a very small opening in a window or other building envelope component to allow small amounts of ventilation in spaces intended to be naturally ventilated when major elements of the design - windows, doors, etc., are otherwise closed. Build regulations state that you are required to replace windows like for like. If the old window already has a trickle vent your new window will need one fitted too. All windows to be fitted in new builds and extensions will require trickle vents.
Approved Document F - Download
Thermal Efficiency and Performance - Part L
Replacement windows and doors now have to meet the same standards as new windows:
UPVC Windows – U value = 1.6 W/m2.K and WER Band C
Doors – U value = 1.8 W/m2.K
U values are calculated for the whole unit, both glazing and frame.
Our most energy efficient triple glazed windows achieve a U value of just 0.9 and WER Band A++.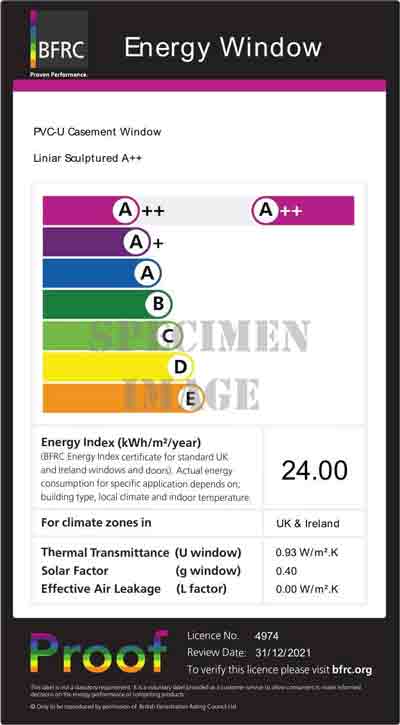 Approved Document Part L - Download
Wheelchair Access - Part M
All new builds are required to meet building regulations Part M. This is to achieve a minimum clear opening width of 775mm.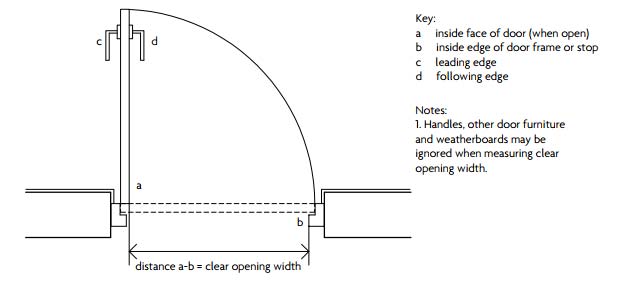 Approved Document Part M - Download
Toughened Safety Glass - Part N
The glass units in windows will have to be toughened if the lowest part of the window is 800mm from the floor. All glass units for doors must be toughened as windows that are connected to doors (side panels and flag windows).
The shaded areas shown in the diagram below show critical locations where toughened safety glass will be required.
Security - Part Q
Designed to ensure the prevention of unauthorised access to dwellings (including flats).
Approved Document Part Q - Download
Request a Call Back
Submit your details and a friendly member of our team will call you back.
+Click Here
Contact Us
Get in touch on 01530 515161, Monday-Friday 9.00-17.30 or email sales@houseofwindows.co.uk
Request a Quotation
Submit your requirements and we'll gladly provide a competitive quotation.
+Click Here