Glazing
THREE TIMES MORE THERMAL INSULATION THAN STANDARD DOUBLE GLAZING
The most popular window units are double glazed. Both our double glazed windows and triple glazing are supplied with sealed units incorporating Ecopane Softcoat, argon gas and warm edge spacer bars, offering enhanced thermal insulation compared to standard double glazing. They also meet the requirements of the latest building regulations, whether it be by WER or by overall window U value for compliance.
Sealed units incorporating Ecopane with argon gas are some of the best performing sealed units on the market.
Helps windows exceed Building Regulations concerning energy efficiency in homes now and for the future changes expected
Enables householders to reduce energy usage and save money on heating bills
Environmentally friendly helping to achieve the Government's targets for reducing CO2 emissions from homes
Helps to reduce drafts near windows to create a more useful space in rooms
Excellent light transmission which helps to reduce the need for artificial lighting
Available in annealed form and can be toughened or laminated for use in areas which require safety glazing
Pilkington Textured Glazing
Pilkington Texture Glass provides obscuration and decoration. All patterns are classified according to their obscuration in relation to each other, the gradation being from 1 (least obscuring) to 5 (most obscuring). Pilkington Texture Glass is translucent, transmitting diffused light whilst maintaining privacy.
Offering you no fewer than 17 different patterned glass designs – from classic to contemporary.
All pattern names (e.g Everglade™) are a trade mark of Pilkington plc.
All pattern images are the copyright© of Pilkington plc and are reproduced by the permission of Pilkington plc.
Toughened Glass
Glass is naturally fragile. Toughened glass provides a safety feature upon breakage as the pane shatters into tiny pieces. It is used in an increasing number of applications where safety glass is required in accordance with BS-EN 12600 specifications, such as doors, side screens and low-level glazing.
In addition to the safety features, toughened glass is highly resilient to thermal stress. When glass is placed through the toughening process, the internal stresses within its structure change, which increases the glass's flexibility and strength.
Laminated Glass
Laminated glass is a type of safety glass that holds together when shattered. In the event of breaking, it is held in place by an interlayer, typically of polyvinyl butyral (PVB), between its two or more layers of glass.
The interlayer keeps the layers of glass bonded even when broken, and its high strength prevents the glass from breaking up into large sharp pieces. This produces a characteristic 'spider web' cracking pattern when the impact is not enough to completely pierce the glass.
Laminated glass is normally used where there is a possibility of human impact or where the glass could fall if shattered. The PVB interlayer also gives the glass a much higher sound insulation rating, due to the damping effect, and blocks 99% of incoming UV radiation. Laminated glass with specialist PVB interlayers, known as acoustic laminates, further improve sound reduction.
Georgian Bars
We offer an array of upvc windows with Georgian Bars. Intergal bars within the sealed units are supplied in two traditional sizes, 18mm (standard) or an optional 25mm thickness. Surface mounted face fix Astragal bars are also available creating the appearance of individual panes of glass with back to back spacer bars. All available in our extensive range of wood effect colours.
Decorative Lead
9mm silver lead is available designed in the more traditional square and diamond layout. Custom lead designs can also be accommodated.
Triple Glazing
Triple glazed windows are a type of window that features three panes of glass instead of the traditional two. Between each layer of glass is a pocket of low-conductivity argon gas, which helps to insulate your home and reduce heat loss. This makes them suitable for any style of home or building. For further information please visit our triple glazed windows guide.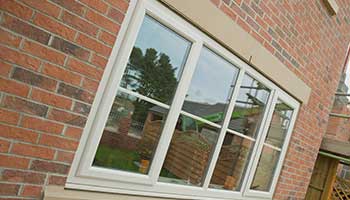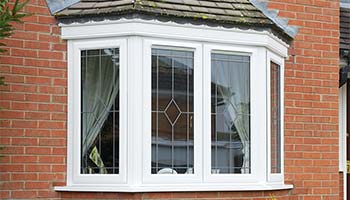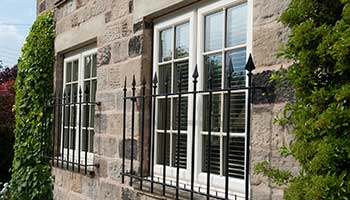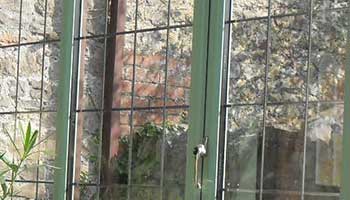 Request a Call Back
Submit your details and a friendly member of our team will call you back.
+Click Here
Contact Us
Get in touch on 01530 515161, Monday-Friday 9.00-17.30 or email sales@houseofwindows.co.uk
Request a Quotation
Submit your requirements and we'll gladly provide a competitive quotation.
+Click Here